Return to Headlines
Closing Out the 2016-2017 School Year
Last Mountaineer Notes of 2016-2017

Two of Wetsel 6th grade science students placed in the top 5 for the state of Virginia for the VGA/ESRI ArcGIS Online Mapping Competition. Aliyah Aylor and Anna Pfaff will receive certificates and a $100 reward and will be acknowledged during the 6th Grade Awards Assembly. The Virginia Geographic Alliance (VGS) promotes geo-literacy by providing effective professional development programs that enhance the teaching and learning of geography and that demonstrate the value of geographic knowledge and spatial thinking to educators, policy makers, and community members. The students work can be seen: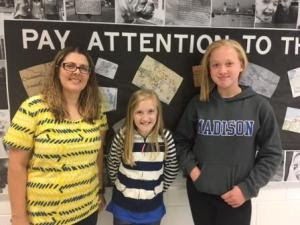 Aliyah Aylor's Online Mapping Competition Submission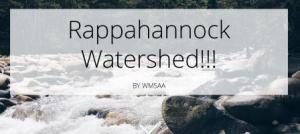 Anna Pfaff's Online Mapping Competition Submission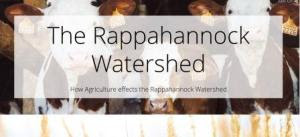 Teaching-Learning-Caring Recognitions were made at the May School Board meeting. 32 Madison Employees were recognized before about 125 people that included colleagues, parents, students, and family members. Wetsel Middle School's 6th Grade Science Teacher Kim Adams was named Teacher of the Year. Below are the school recipients by category.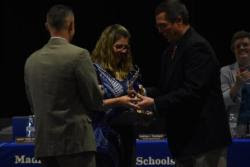 Teaching Award Winners (front row l-r) Madison Primary School 1st Grade Teacher Martha Clements, Waverly Yowell Elementary School 4th Grade Teacher Kayla Davis, Wetsel Middle School Science Teacher Laura Daniel, MCHS History Teacher Shannon Johnston
Learning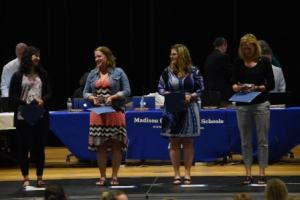 Learning Award Winners (front row l-r) Madison Primary School 2nd Grade Teacher Maci Dyer, Waverly Yowell Elementary School Instructional Coach Jen Rehm (absent), Wetsel Middle School CTE Teacher Laura Daniel, MCHS Engineering/Physics Teacher Thomas Benns
Caring
Caring Award Winners (front row l-r) Madison Primary School Custodian Rob Brock, Waverly Yowell Elementary School 3rd Grade Teacher Marty Ward, Wetsel Middle School Math Teacher Emma Taylor, MCHS English Teacher Gail Temple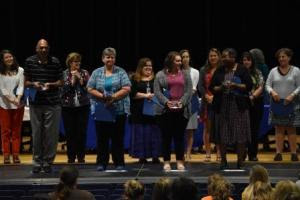 Fifth grade running club held their spring race last Tuesday at Hoover Ridge. Nineteen students participated in the race. The top male was Troy Miller, and the top female was Courtney Weakley. Thank you to Andrew Schmaltz, Patrick Jennings, and Brittany Baker for spending time after school coaching and organizing this event. This is the Running Club's Seventh Year.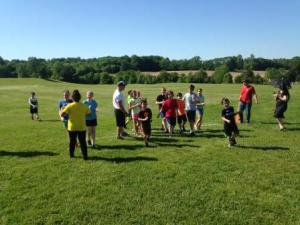 The final session of the MadConnects PenPal Collaboration involved interview session with this year's participants (Kellie Mason's Seventh and Eighth graders). The kids reflected on the entire project and observed their ever-evolving perspectives. The partnership was wonderfully insightful and we thank Ms. Misra, her students, and the Packer Collegiate Institute of Brooklyn, NY. The link to the final video can be found by clicking the picture.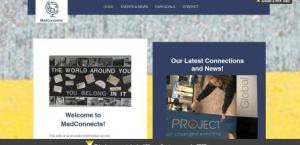 Congratulations to the following Soccer Players for being named to the 2017 All Bull Run District Soccer team:
Girls
Leigh Lumsden – 1st Team Forward
Ashley Haines – 1st Team Defender
Makayla Taylor – 2nd Team Forward
Makenna Santinga – 2nd Team Midfielder
Morgan McClelland – 2nd Team Midfielder
Olivia Young – 2nd Team Defender
Boys
Alejandro Tenorio – 2nd Team Forward
Congratulations to the following Baseball Players for being named to the 2017 All Bull Run District Baseball team:
Isiah Smith – 1st Team Outfield
Eli Estes – 1st Team Utility, 2nd Team Pitcher
Jonathan Miller – 2nd Team Outfield
Congratulations to the following Softball Players for Being named to the 2017 All Bull Run District Softball team:
Logyn Estes – 1st Team Pitcher, District Player of the Year
Emily Seale – 1st Team Pitcher
Kara Price – 1st Team First Base
Hannah Johnson – 1st Team Second Base
Meadow Anderson – 1st Team Third Base
Carrington Frazier – 1st Team Shortstop
Kate Ryder – 1st Team Outfield

Congratulations to the following Senior Athletes who graduated with a GPA of 4.0 or above: Pictured left to right: Isaiah Breckenridge, Amelia Graves, Leigh Lumsden, Grace Fox, Sarah Coates, Kara Price, Carrington Frazier and Chris Smith. Not pictured are Riley Sealander and Riley Loyd.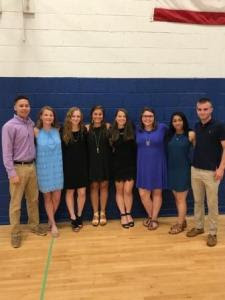 Congratulations to the following Senior Athletes who were recognized for being 12 season athletes during their career at MCHS. This means they played 3 sports all 4 years of high school. That is going from August 1st to June every year for 4 years. Pictured left to right: Isiah Smith, Amelia Graves, Isaiah Breckenridge and Dre Twyman.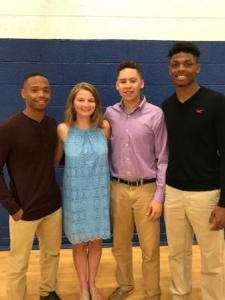 Congratulations to the following Student Athletes who received $1,000 Scholarships at the Athletic Banquet; Pictured from left to right: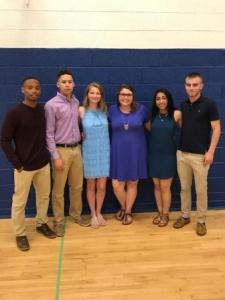 Isiah Smith – Athletic Booster Outstanding Male Athlete
Isaiah Breckenridge – David Province Memorial Scholarship
Amelia Graves – Athletic Booster Outstanding Female Athlete
Kara Price – Kaitlin Aylor Memorial Scholarship
Carrington Frazier – Athletic Booster Outstanding Female Athlete
Chris Smith – Athletic Booster Outstanding Male Athlete
Isiah Smith, Isaiah Breckenridge, Amelia Graves, Kara Price, Carrington Frazier, Chris Smith
Congratulations to the following Spring Athletes that were named the PCA Sportsmanship winners for their teams:
Girls Track – Makhayla Monroe
Boys Track – Dre Twyman
Boys Soccer – Matt Dixon
Girls Soccer – Amelia Graves
Baseball – Isaiah Breckenridge
Softball – Katelyn Ryder

Multi-Genre Projects. Jeff Tilbe's fifth grade class recently completed Multi-Genre Projects. The students had the option of researching the life of a famous person or a historical event, obtaining the oral history of some who lived during a historical event, or creating a memoir. This project had students researching, sequencing events, writing, and presenting their projects.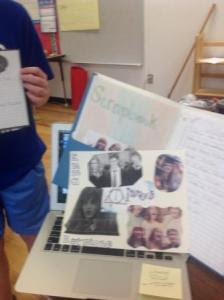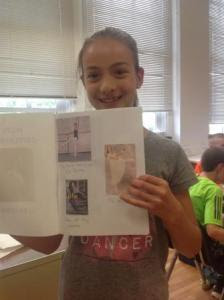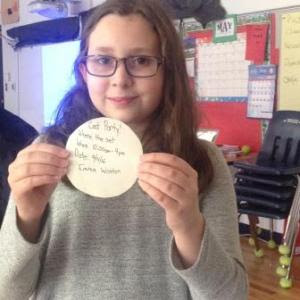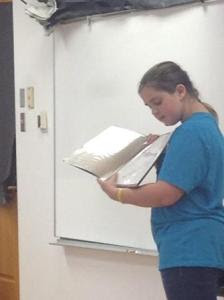 The nextGEN Business Consulting at the Madison Business Expo occurred on May 18. Students talked to prospective clients about the consulting services we can provide in our classroom simulated workplace. The students pictured are (L-R): Emillee Russell, project manager; Amber Carpenter, designer; and Olivia Young, general manager. Also attached is a graduation picture of exiting nextGEN Business Consulting students: James Tamelcoff, Wyatt Taylor, Alejandro Tenorio, and Kash Thomas.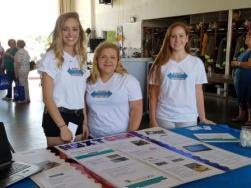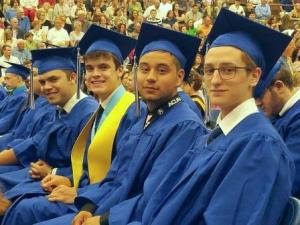 Movement Moments. Students in Brenda Lyddane's second grade music class completed a review of music vocabulary and skills learned throughout the year via a movement strategy learned from the Ron Nash workshop. Students worked in pairs to demonstrate their understanding as they read clues on popsicle sticks and had to locate the answer on a floor map. Students were highly engaged and able to demonstrate their learning in an exciting and active way!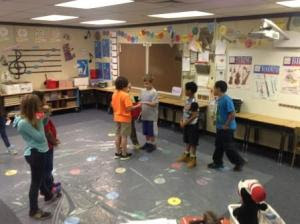 First Graders at Madison Primary School got a taste of the real world during a PBL on economics. Students received paychecks for producing goods and got to spend their hard-earned cash at the Economy Store. They even honed their persuasive writing skills by creating posters to advertise their products. The First Grade Team did a fantastic job making this learning experience meaningful and fun for kids!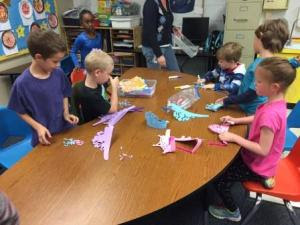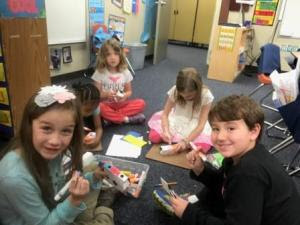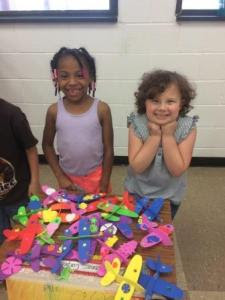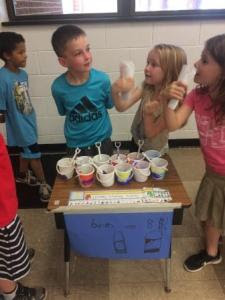 Primary's Annual Half Mile Race. On Tuesday, May 23, First and Second Grade Primary Students completed in the annual half-mile race. The Boys second grade race was CLOSE!
Second Grade Boys:
Will Miller – 3:08
Enoch Chung – 3:08
Weston Lillard – 3:21
Second Grade Girls:
Anna Thompson – 3:16
Lydia Navitsky – 3:20
Jenna Kate Tanner – 3:26
First Grade Boys:
Isaiah Jones – 3:17
Dylan Brundage – 3:20
Will LaVoie – 3:20
First Grade Girls:
Ashanti Brown – 3:28
Juliet Lamb – 3:34
Miranda McDaniel – 3:35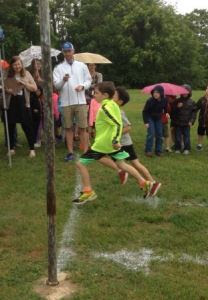 Waverly Yowell did not let a little rain and cool temperatures affect their end of year Field Day. All events were moved inside and the students had a blast. Grade levels rotated through a variety of activities. Activities included bounce houses in the gym, dancing and bottle flipping in the cafeteria, games in the library/hallways, and face/nail painting. A huge thank you goes out to Andrew Schmaltz for organizing all of the events and all of the parents and high school students who volunteered.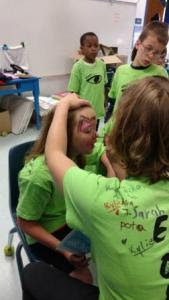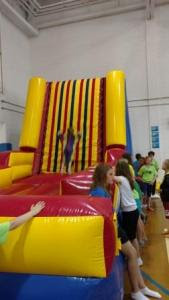 Madison Primary School students had a banner day for their annual Field Day this past Friday. Temperatures in the upper 80s sure made those water slides a lot more fun! Students competed in track and field events, had their faces painted, engaged in chalk art activities, participated in a dance party, and of course the ever-popular inflatables. Students capped off the day with an ice pop treat, a fitting end to a great day. Thanks to Ben Breeden for organizing the event, to all faculty and staff for managing rotations, and to our high school and parent volunteers for their assistance with stations. The children had a terrific day!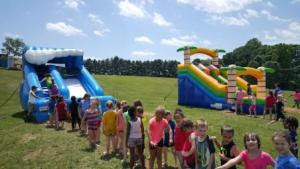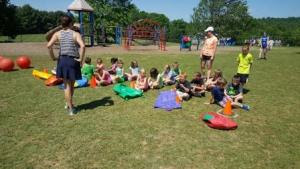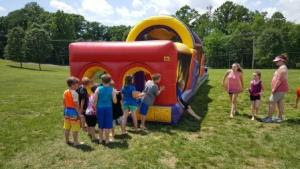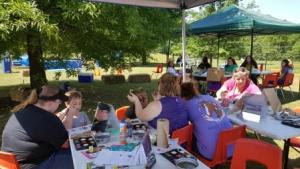 Many thanks go out to MCHS teachers, Shannon Johnston, Jenette Reyes, Geoff Morrell, Lydia Burk and Kane Kashouty who helped Guidance Counselor Celinda Bailey with senior clearance. They met with seniors to gather and update information on future plans for our seniors.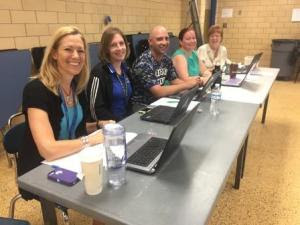 Last week, the MCHS choir and band held their spring concerts. High school and middle school students showed their talent once again and impressed the crowd with wonderful music. Congratulations to both Director Mike Allen and Assistant Director Alicia Strickler for their dedication to the music program in Madison.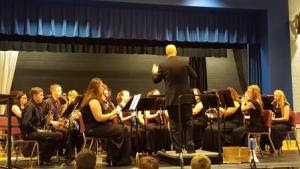 Congratulations to the Graduating Class of 2017! Friday night graduation was a great celebration for our seniors.