Return to Headlines
Madison Resident Named New Schools Assistant Superintendent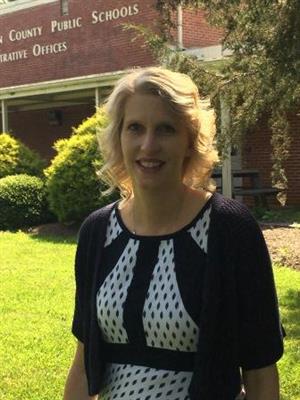 Catherine "Cathy" Jones was named the new MCPS Assistant Superintendent by the Madison County School Board. The Madison County School Board unanimously approved Superintendent Matt Eberhardt's recommendation at a scheduled meeting on June 29, 2017. Her primary responsibilities will be personnel and instruction.
Eberhardt said, "Madison Schools have made excellent advances in instruction in the last several years. Some of which have received state recognition. Every one of us should celebrate these successes."
"I believe that Cathy Jones will continue our focused improvement in reading scores at Waverly. Cathy and I agree that we should focus on success in all schools, in all grades, and in all subjects. And, we agree that excellent schools are determined by so much more than SOL scores."
"As a nation we are in a teacher crisis. Data show that more teachers will leave the profession in the next five years than university students pursuing plans in education. I have full confidence in Cathy to be creative in securing the best teachers for our Madison children."
Currently, Jones is the Executive Director of Teaching and Learning with Rappahannock County Public Schools. Her responsibilities include instruction, human resources, transportation, and mentorship. Previously, she served as Assistant Principal and Principal of Rappahannock Elementary School from 2006 until 2016. She has made many local and state presentations on writing, reading, and special education.
As principal, Jones brought Rappahannock Elementary to full accreditation.
A 1993 graduate of James Madison University, Jones graduated with an advanced degree in Administration and Supervision from Shenandoah University in 2005. Currently, she is pursuing her doctorate in educational administration with an anticipated 2019 completion.
She began her teaching career in Augusta County in 1994 where she served as Team Leader and chaired several important committees. Subsequently, she taught at Wetsel Middle School for one year.
Jones is a Madison resident with a daughter, Scotti, at Madison County High School and three older children, Kati, LeAnn, and Lauren who have each graduated from Madison. Her husband, Doug, a local businessman, is a familiar face in the Madison community as owner of Jones Auto Parts and Madison Tire and Auto.
Jones' contract begins on July 1. She replaces Assistant Superintendent Griff Carmichael who resigned in May.
"I have been so impressed with Madison County Public Schools and the excellence in education our students receive," said Jones.
"Madison has made incredible advances in instruction in recent years, earning state recognition, as well as implementing upgrades in safety and technology that enhance learning. I am impressed with Madison's creativity in hiring high quality folks to teach our children while nationally and statewide divisions are facing a teacher shortage crisis. I am immensely honored to join such a stellar school system and am thrilled to be coming home to Madison."
Previously, Assistant Superintendent Carmichael oversaw administration and human resources, and Tina Weaver oversaw instruction. Weaver will assume new responsibilities as the Director of Administration in 2017-2018 overseeing federal reporting, food services, maintenance, crisis and safety, testing, and transportation. Jones will lead human resources and instruction.