Superintendent of Schools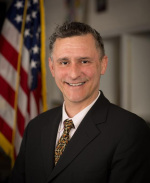 Phone: 540-948-3780
Email:
Degrees and Certifications:
Dr.

Matthew Eberhardt

In all, Madison is known not so much by "schools" as by educational families – students surrounded by caring, thoughtful staff, parents and community members who expect graduates to have earned a top-notch education. Students attend Virginia and the nation's top schools and enter the workforce exceptionally well prepared. This great feat is accomplished by caring communities centered on what we call "Madison Pride" – the drive to provide children an absolutely remarkable education and a plethora of opportunities.

Madison County Public Schools (MCPS), a student-centered and community-supported school division, insures a superior education in a changing world. Our vision is to build on excellence to exceed community expectations … to be the best. In Madison, we are proud of excellent schools which focus on traditional methods and progressive programs in our never-ending cycle of improvement. This is why we are regarded as a superior school division in the Commonwealth.

We are committed to helping students acquire the strong values to deal effectively with important intellectual, ethical, and social problems.

Responding to community, parent, and workforce expectations, MCPS aims to educate children to be prepared for good citizenry and life-long learning. Twenty-first century skills require that tomorrow's workforce be adept at technology, excellent communicators, responsible employees, and physically fit and active. To this end, we want every secondary student to take Dual Enrollment, Advanced Placement, or earn an Industry Certification prior to graduation as well as learn a foreign language. And, we encourage all students to be scholar-athletes or scholar-performers.

MCPS embraces the notion of global awareness. We aim to provide world awareness through foreign language, current events, classes in culture and diversity, as well as K-12 division wide studies on a central question. We support enrichment experiences for all students to engage them with the world beyond Madison and by developing national and international connections through virtual exchanges with national and international sister schools. We fully support the incorporation of cultures and current events of local, national and international communities at every grade level.

Equally, we support the notion of community citizenry and awareness. MCPS embraces our local community that is rich in history and tradition. Our landscape boasts preeminent countryside – mountain life and flatlands, rich with agriculture, viniculture, forestry, and pastureland. We expect students to know our Madison community and natural wealth as we encourage field trips, community service projects and service learning. In preeminent countryside, students have the opportunity to experience and learn from our amazing location.